Purpose of a critical review
A critical review is a writing task that requires you to present a viewpoint about a text. You need to summarise and then evaluate the chosen text.  To provide a fair review, it is essential to research and read other information about the text you are reviewing.
An evaluation requires you to include strengths and weaknesses of the text.
Structure of the review
Include an opening sentence that announces the author(s) and the title, and briefly explains the topic or genre of the text. Present the aim of the text and summarise the main finding or key argument. Conclude the introduction with a brief statement of your evaluation of the text. This can be a positive or negative evaluation or, as is usually the case, a mixed response.
Summarising and paraphrasing are essential skills for academic writing and in particular, a critical review.
To summarise means to reduce a text to its main points and its most important ideas. The length of your summary for a critical review should only be about one quarter to one third of the whole critical review.
The best way to summarise is to:
Scan the text. Look for information that can be deduced from the introduction, conclusion and the title and headings. What do these tell you about the main points of the article?
Locate the topic sentences and highlight the main points as you read.
Reread the text and make separate notes of the main points. Examples and evidence do not need to be included at this stage. Usually they are used selectively in your critique.
The best way to paraphrase is to:
Review your summary notes
Rewrite them in your own words and in complete sentences
Use reporting verbs and phrases (eg; The author describes…, Smith argues that …).
If you include unique or specialist phrases from the text, use quotation marks.
Critique
The critique should be a balanced discussion and evaluation of the strengths, weakness and notable features of the text.
Conclusion
This is usually a very short paragraph.
Restate your overall opinion of the text.
Briefly present recommendations.
If necessary some further qualification or explanation of your judgement can be included. This can help your critique sound fair and reasonable.
References
If you have used other sources in you review you should also include a list of references at the end of the review.
Language features of the critical review
1. Reporting verbs and phrases
These are used to tell the reader what the author thinks or does in their text.
Gaimain's book Coraline is carefully written…
Coraline has been reimaged by Selick…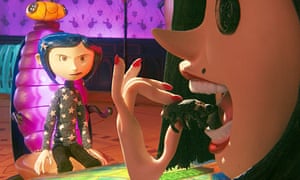 Source:
French, P 2009, 'Coraline', The Guardian, Accessed 17th April 2017, https://www.theguardian.com/film/2009/may/10/coraline-film-review
This 3-D stop-motion animated movie tells a familiar story of a plucky little girl escaping into an attractive alternative world from her restricted everyday life (she's moved a thousand miles from her friends in Michigan and her parents are preoccupied by their writing). The mirror image, however, proves horrific and all her imaginative resources are called upon to escape it. The movie is beautifully crafted, but like the same director's other stop-motion feature, Tim Burton's The Nightmare Before Christmas, it will mystify and in some cases terrify younger children.
Source:
Bradshaw, P 2009, 'Coraline', The Guardian, Accessed 17th April 2017, https://www.theguardian.com/film/2009/may/07/coraline-film-review
This enjoyable creepy animation fantasy in 3D is from Henry Selick, who directed The Nightmare Before Christmas, and does a similar job on this movie, adapted from a book by Neil Gaiman. Coraline, voiced by Dakota Fanning, is a bored 13-year-old who discovers a secret door in the house that her parents have rented. It takes her to a weirdo alternative-universe that at first seems much nicer – before its full horror is revealed. Some scary fun.